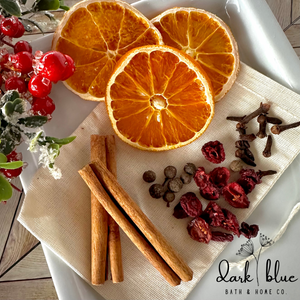 All-Natural Stove Potpourri- Orange Cranberry Spice
A great natural alternative to candles & wax melts! Just fill a pot on the stove with at least 4 cups of water, dump contents of jar into water and leave stove on low simmer setting! As the water warms, the ingredients release an amazing fragrance into the air! Can also use in a crock pot! Just be sure to keep adequate water in the pot at all times as it evaporates.

Blend is Cranberry Orange Spice. Comes in muslin pouch. Sold individually.

Ingredients (Common Name): Dried Oranges, Dried Cranberries, Cinnamon Sticks, Whole Cloves, Ground Cinnamon, Nutmeg & Allspice, Cinnamon, Tangerine & Rosemary essential oils.

Warning: Keep away from children and pets. Do not eat. One Time Use. Never leave unattended. Replace water in pot as needed.
---
We Also Recommend