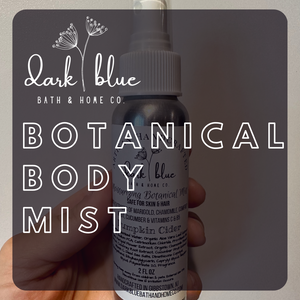 Moisturizing Botanical Hair & Body Mist
This lightweight water-based body spray is infused with all kinds of good stuff like extracts of aloe vera, marigold, chamomile, comfrey root, cucumber & vitamins C & B5. It does double duty of being amazing for skin and hair AND smelling great! They're in a 2oz
aluminum spray bottle- perfect for on the go!
Available in:
Pumpkin Cider- Notes of spicy pumpkin with warm apple cider, caramel, and vanilla.
Mountain Man- Our signature masculine scent! A robust blend of warm mahogany, lavender cedarwood, and oak weave together with smoky, woodsy musk. Smells like a sexy man!
Blueberry Lavender- A spark of blueberry, eucalyptus, and a hint of orange and pineapple drifts onto a bed of lavender, rose, jasmine, and chamomile, trailing off into the warmth of a musky vanilla.
---
We Also Recommend