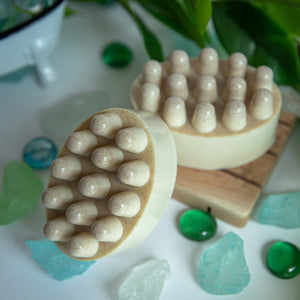 Oatmeal Massage Soap Bars
These soaps aren't just packed full of skin-loving ingredients, they're super functional for stress relief and sore muscles! The creamy formula features real oatmeal and feels luxurious when massaged against your shoulders, your neck, or back, etc. Each soap is approximately 4.5 oz and scented in a classic "Oatmeal Milk & Honey".



Ingredients (Common Name): Sorbitol, Coconut Oil, Propylene Glycol, Stearic Acid, Water, Sodium Hydroxide, Glycerin, Oatmeal, Titanium Dioxide, Fragrance.
---
We Also Recommend