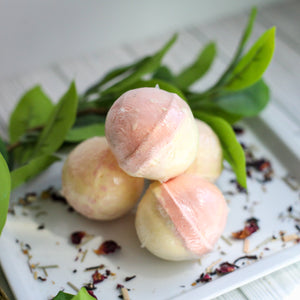 Round Bath Bombs- You Can't Be Cereal
This bath bomb has a fruity scent that will remind you of your favorite cereal. Kids love it, but we'll let you in on a secret- so do adults! It's fun, it's cool, and it may be your new favorite bomb.
Each bomb is approximately 3.5oz. Comes in sets of 3.
Scented in "You Can't Be Cereal"-  Just like the fruity cereal from your childhood!
Ingredients:
Baking Soda, Citric Acid, Corn Starch, White Kaolin Clay, Sodium Cocoyl Isethionate, Isopropyl Alcohol, Fragrance, Water, FD&C Red 33, FD&C Red 33/FD&C Yellow 5 (orange), Maltodextrin, Sodium Starch Octenylsuccinate, Olive Oil, Polysorbate-80.
---
We Also Recommend