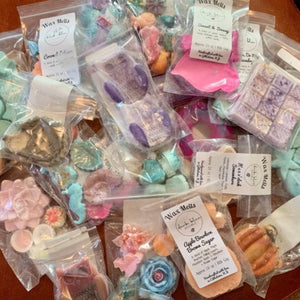 Wax Melt Grab Bag
Like a surprise? Want to try something new or just love a discount? This listing is for you!
This "Wax Melt Grab Bag" is a mystery selection of 3+ items (4-6 oz of wax, total) which could include unreleased scents, imperfect bars, broken pieces, candle overpours or leftovers of previous limited releases. Please keep in mind this wax might be a little homelier, older, and more random than what's available on the rest of our website and has been priced accordingly 😉
We kindly ask that you limit these to ONE per order.

Safety first! Place your wax warmer on a safe, stable surface, away from drafts like vents or open windows and anything flammable. It's also important to keep well out of the reach of children or pets. Visit the Wax Melts 101 page for more info.
---
We Also Recommend